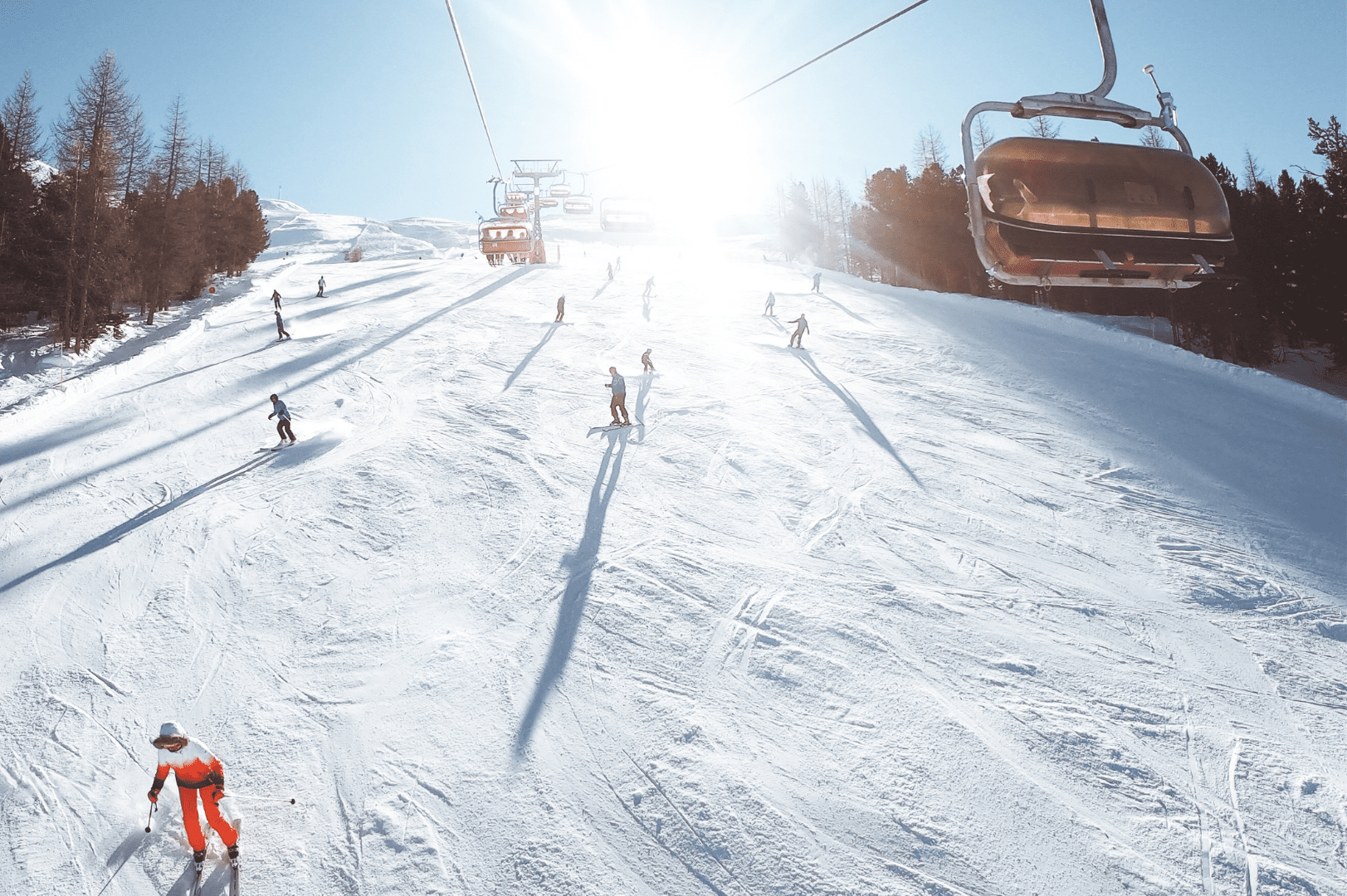 Livigno ski area is waiting you. Choose your skipassion!
18/01/2022
All there is to know in Livigno for those who love skiing and snowboarding. Discover the Ski Area!
Not everyone knows that Livigno is also called the "Little Tibet" of Valtellina, due to its unique position between the Stelvio National Park and the Swiss Engadin and for being among the highest alpine municipalities in Italy, at 1816 meters above sea level.
Thanks to the greatly snowfalls and the innovative snow storage techniques, Livigno enjoys a very long winter season. More than 115 km of ski runs of slopes are open from November to May! Livigno was the European Municipality of Sport in 2019 and will be the site of the snowboard and freeride competitions at the Milan-Cortina Olympics in 2026.
Skiing in Livigno is an experience for everyone, always new and full of emotions every day: #livignoskipassion.
8 reasons why the Livigno Ski Area is one of the most famous ski resorts in Europe:
1. A well-supplied area with modern and safe lifts and slopes
In Livigno you can ski on 74 slopes, black, red and blue; for a total of over 115 km of slopes to cover. 31 lifts all open for the 2021/2022 season.
From the various spots of Livigno it is possible to take over 30 modern lifts, chairlifts and gondolas bring you quickly in high altitude on both sides of Livigno valley. Skiers, snowboarders and freeriders who choose Livigno do not really run the risk of getting bored by choosing to ski on slopes of any levels of difficulty (easy, medium, advanced).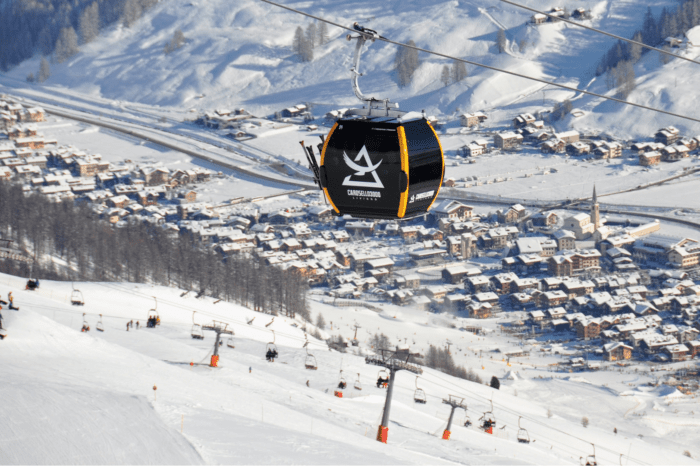 2. Magic carpets and lifts for children and beginners skiers 
If it's too early for the drag lift, no fear: the little skiers and the beginners can use a multitude of conveyor belts for easy slopes. In Livigno everyone can learn to ski and have fun in total safety and comfort. The slopes dedicated to children and all those who are starting are easily reachable from town and from the stops of the free bus.
3. The Livigno snow parks: Structures and tracks for snowboarding and freeskiing
If skiing is adrenaline, in Livigno it flows like a river: discover the Snowparks for snowboarding and freestyle, very popular among the best international athletes. Jumps, barriers, maneuvers: great fun is right here. The close attention Livigno pays to snowboard and freeski lovers comes from faraway and is beyond compare in the whole Alpine range.
4. With Skilink ski on both sides of Livigno. Fast link Mottolino-Valandrea/Botarel
In Livigno you can ski on both sides of the valley. Your day on the skis in Livigno is limitless. In order to allow you to ski on both mountain sides in the same day, a special link has been devised: Skilink, the free transportation service for skiers that connects the two sides of Livigno in 5 minutes only.
The service is completely free of charge: take advantage of Skilink and ski on all main Ski Areas of Livigno in one day only.
5. Ski schools where you can learn to ski with pro instructors
Learning to ski in Livigno is easy, with the help of expert and qualified ski instructors of the numerous ski schools available in the resort. You can book individual ski lessons or a group ski course, to start skiing from scratch learning the technique and the movements feeling safe, or to improve your style if you can already ski. What are you waiting for? The sooner you start skiing, the sooner you have fun!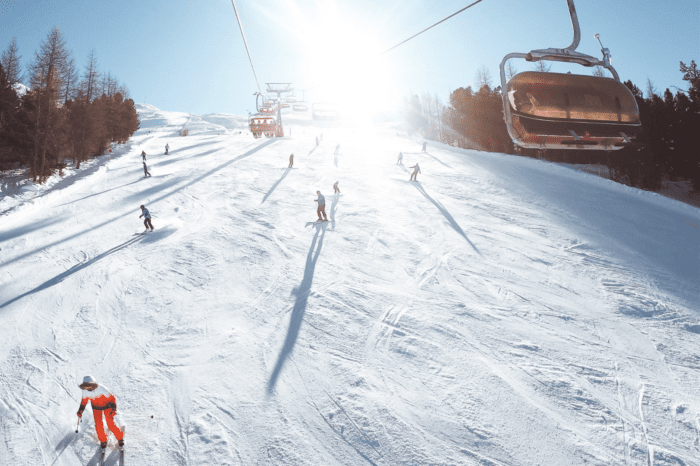 6. Food & Drinks: Relaxing moments on the slopes in Livigno
Skiing makes you hungry it's time to eat! After a day on the snow you are spoiled for choice among the Food & Drinks offer proposed in Livigno. A good lunch in the refuge, an aperitif at high altitude or an après ski upon arrival?
Take a break for relaxing and tasting the best local, Italian and international culinary specialities.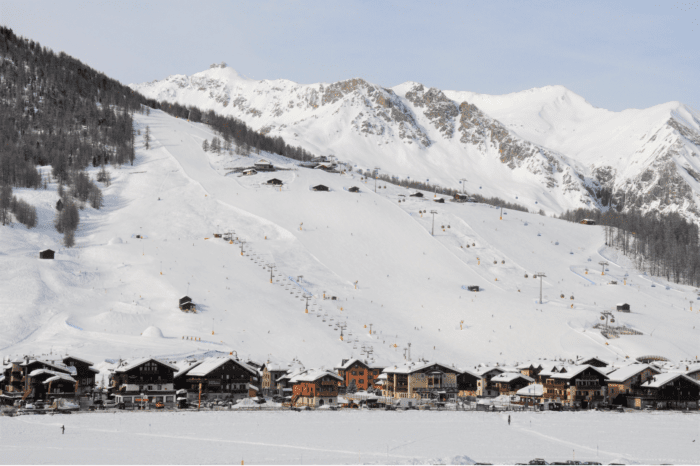 7. Livigno is an inclusive Ski Area. Skiing and snowboarding for disabled people
Livigno Ski Area is ideal for disabled skiers too. An inclusive Ski Area, that allows people with physical and sensory disabilities to ski totally safe on the ski runs of Little Tibet. Livigno offers reserved parking for disabled near ski slopes, bars, restaurants, self-services and rest rooms for skiers accessible also to people on wheelchair, and ski instructors thoroughly prepared for teaching disabled children and adults, with physical difficulties or afflicted with intellectual diseases, by helping them get closer to the skiing world.
8. Attention to safety and what to do in case of salvage
Even on the ski slopes there are rules to follow. Get all the skier rules, snow reports and what to do in case of emergency. And in this period even more so to follow all the anti Covid regulation to ski safe! Here you will find all the rules for skiers.
How to buy the Livigno ski pass?
For the winter season 2021/2022 the Livigno ski pass rates are valid from 11/27/2021 to 05/01/2022. You can choose day passes to ski from morning to evening or go for morning or afternoon tickets, without forgetting the many offers and ski promotions at special prices, such as the weeks of the "Family week". The purchase of the ski pass can be made at the ticket offices at the start of the lifts or buy your ski pass online now in total safety!
Webcam Livigno
Finally, Check snow and slope conditions in real time through the webcams in the Livigno area.
>> The Livigno ski season is waiting. Here you find the snow, you choose which experience to live! Download the ski map <<