Valentine's Day: 14 romantic hours on the snow of Livigno
10/02/2023
Surprise your partner with a romantic Valentine's Day on skis in Livigno.
The famous Valentine's Day is celebrated on Tuesday 14 February 2023 and the Livigno ski area is certainly the ideal place for a romantic getaway in the mountains. In addition to the ski area of ​​115 km of slopes, many snow activities to do with your partner or with the whole family are awaiting you.
Are you ready to spend a whole day with your sweetheart in Livigno?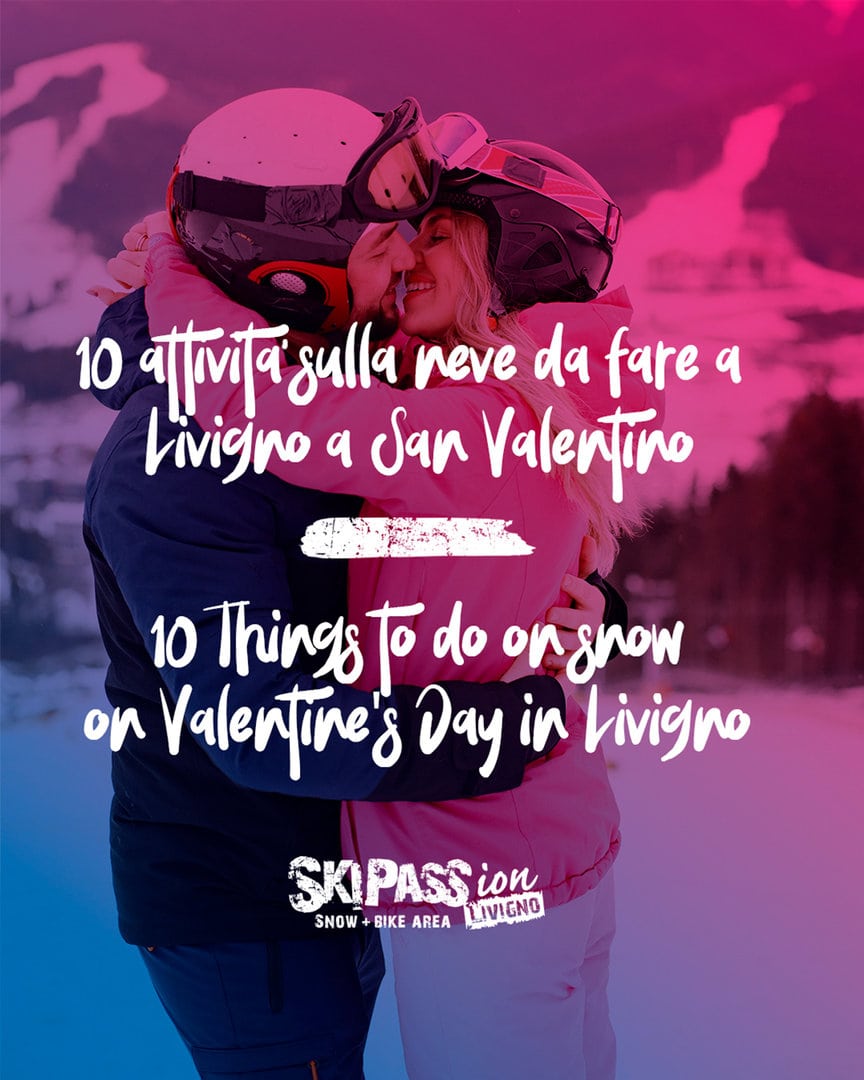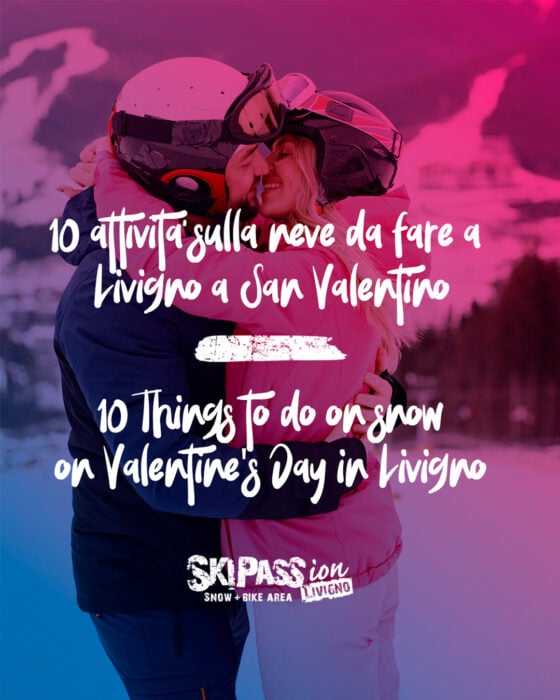 Here is the program for the special day in the Livigno ski area for a perfect Valentine's Day
❤️
Activity 1
07.00 a.m. – Sunrise Emotion & Luxury Breakfast
Wake up early and hit the slopes for a romantic skiing under the first rays of sunshine combined with a delicious gourmet breakfast at the Costaccia hut.
The meeting is at lift No. 25 Livigno Centro Tagliede at 07:00 for the Sunrise Emotion & Luxury Breakfast and starting from 8:30, at the Costaccia Restaurant, there will be the chef ready to pamper you and prepare a rich breakfast, sweet and savory.
The perfect experience to start this romantic day off right!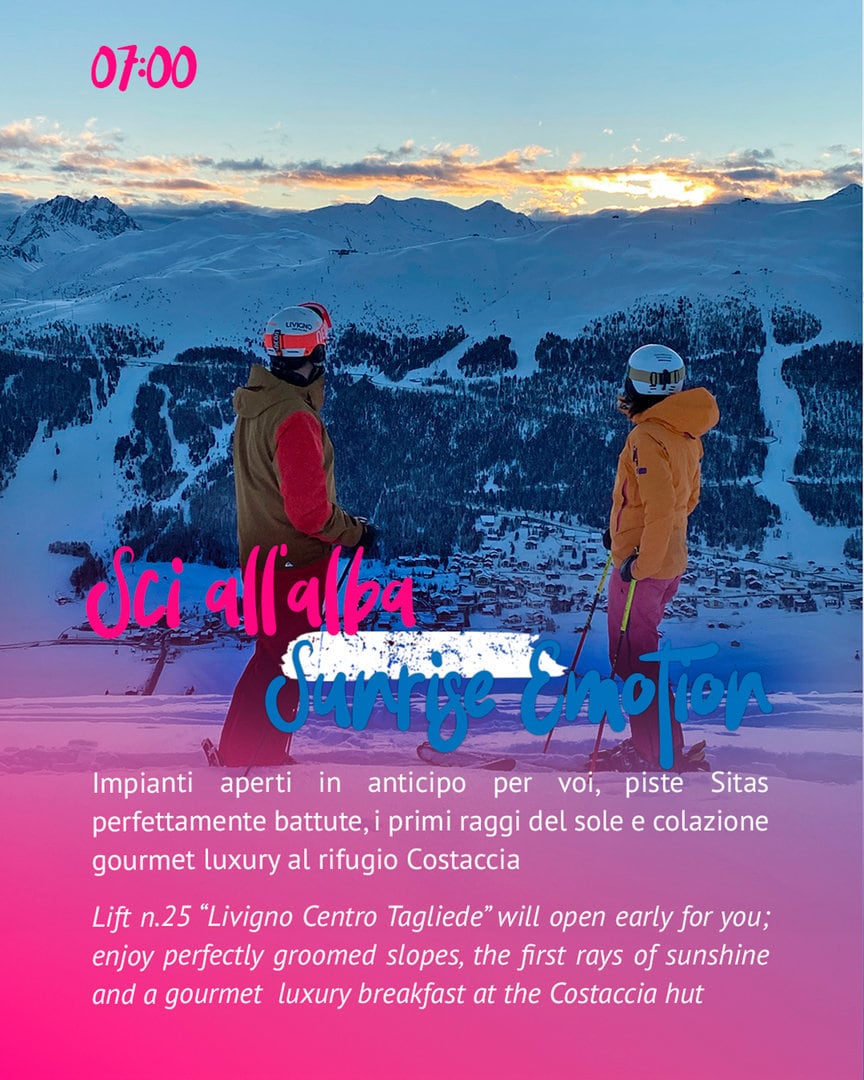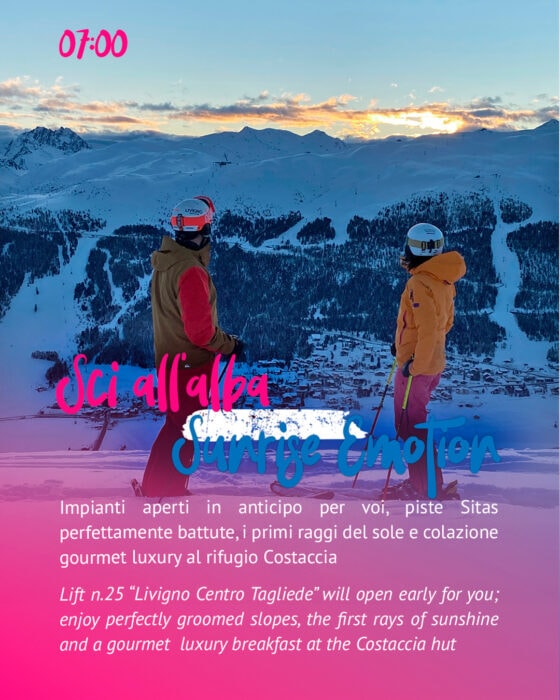 ❤️ Activity 2
09:00 a.m. – Skiing to discover the Livigno ski area
You are full of energy, so all you have to do is to start skiing to discover the entire Sitas – Carosello 3000 mountainside. When you reach the top of lift No. 16 Blesaccia II, remember to take a nice picture, because you will be on the highest peak of the Livigno ski area, exactly 2797 meters above sea level.
DOWNLOAD THE APP AND CHECK OUT THE 3D MAP OF THE LIVIGNO SKI AREA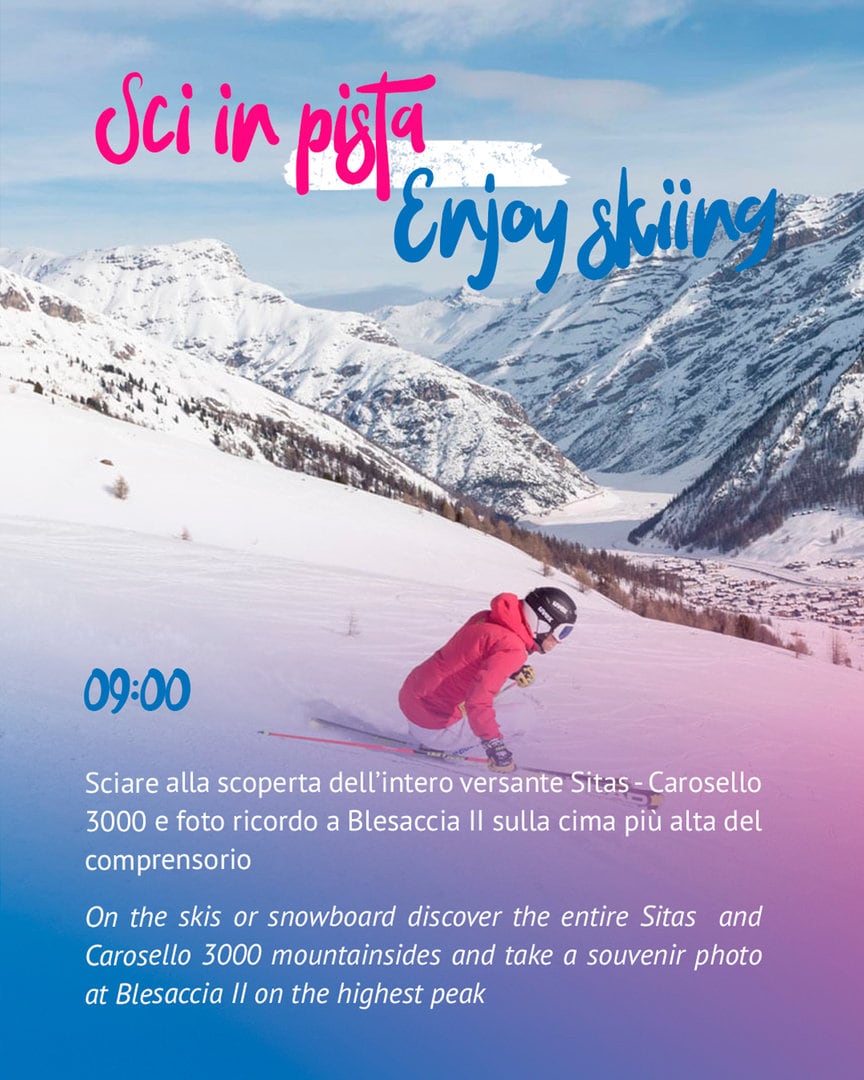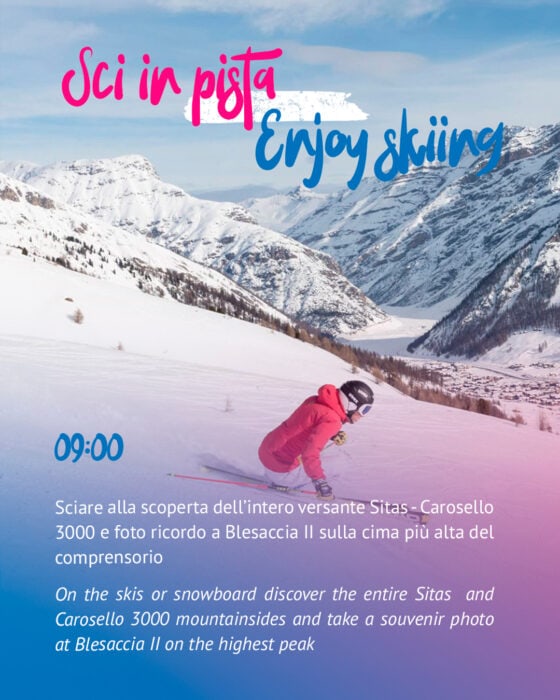 ❤️
Activity 3
10.30 a.m. – Fun as a couple, with a pinch of competition
To make the day a little more fun and original, it's time to challenge your better half to one of the activities of your choice from snow tubing, sledges, ski obstacle courses or mini bobsleds.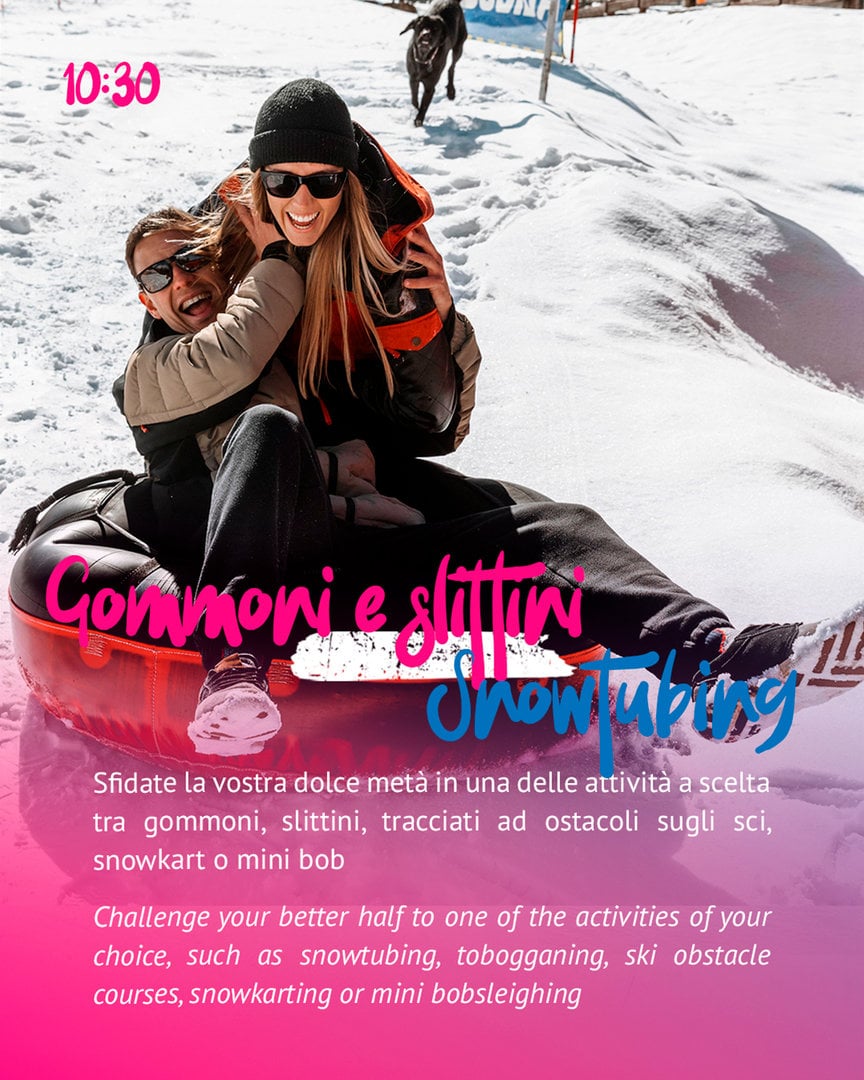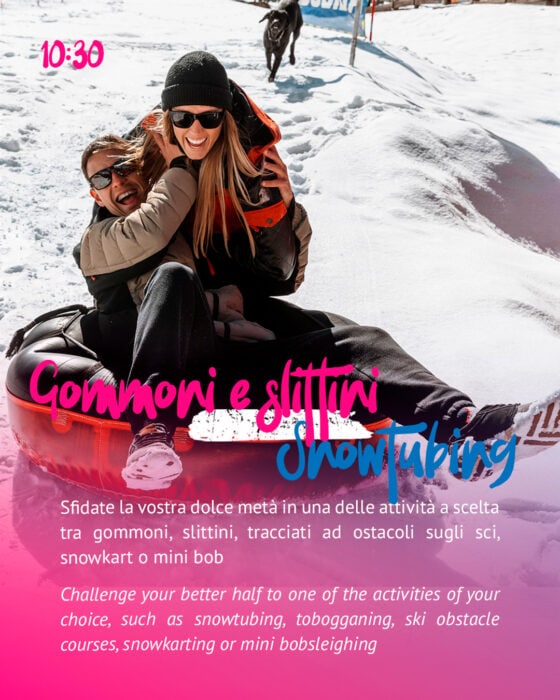 ❤️
Activity 4
11:30 a.m. – Sky Experience or Walking at 3000 meters
Leave the skis aside for a moment and treat yourself to a more intimate moment with your partner.
If you are a no-holds-barred, adventurous couple who wants to make the most of every moment together, you can decide to make your heart beat not only for love, but also for an adrenaline-filled flight above the Livigno valley on a tandem paraglider with instructor.
Alternatively, you can opt for a beautiful and romantic walk at an altitude of 3,000 meters on easy and safe mountain trails with spectacular views.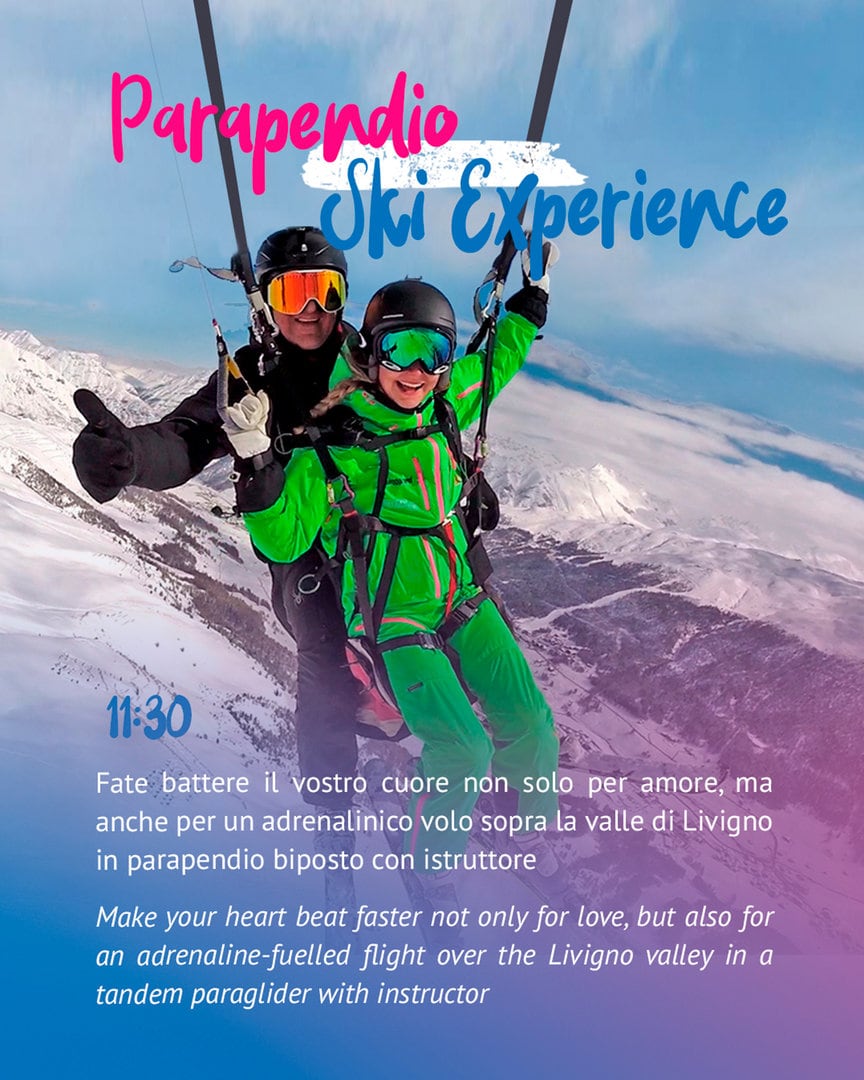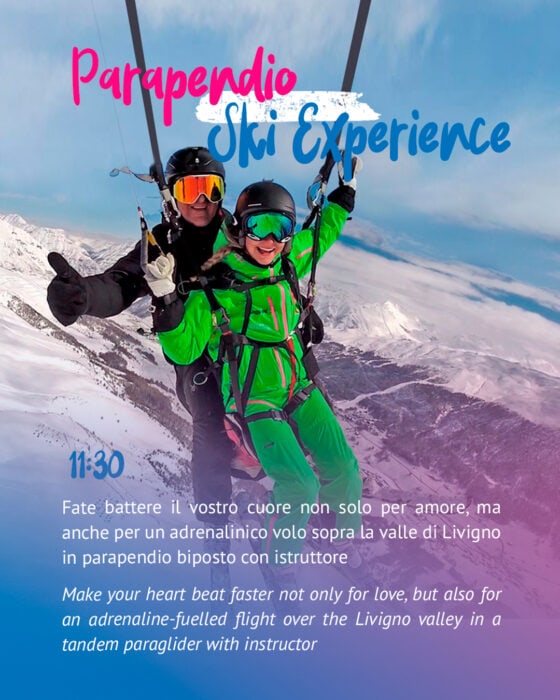 ❤️
Activity 5
12:30 p.m. – Lunch at high altitude at La Stuvetta restaurant or a short lunch break at "Fat Cat"
Lunchtime has arrived, and you know, there is nothing better than relaxing with good food and enjoying breathtaking scenery with views of Livigno.
From the terrace of Carosello 3000 you can admire the immaculate peaks of the Rhaetian Alps and the "little Tibet" in all its glory and enjoy a delicious typical Valtellina lunch at La Stuvetta Restaurant.
If, on the other hand, you want a more fun and "fat" outdoor stop, then you will have to set out in search of the "Fat Cat" snowcat on the slopes of Carosello 3000.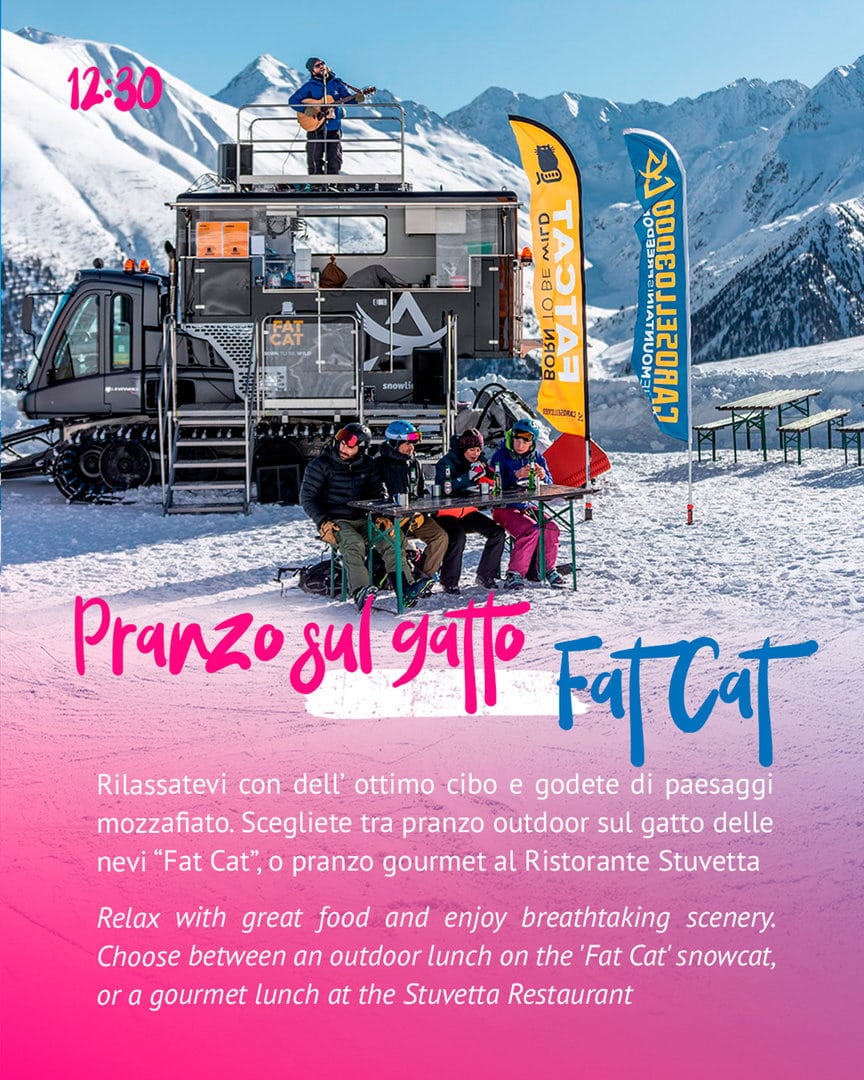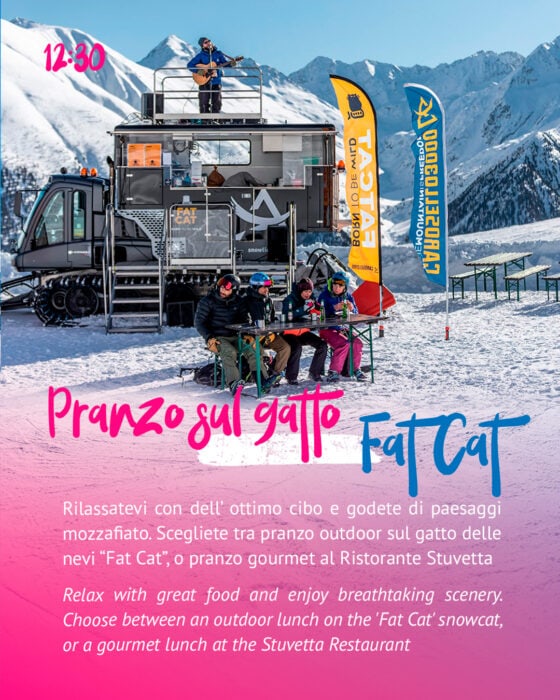 ❤️ Activity 6 + 7 + 8
3:00 p.m. – Transfer with skilink to Mottolino mountainside, Instagrammable spot with Livigno view and après-ski at Camanel
Now you just have to discover the other side of the Livigno ski area, the Mottolino mountainside. To do this you will have to take the skilink shuttle bus from Carosello 3000 that will take you to the lift No. 1 Teola Pianoni Bassi. 
A sweet souvenir picture with Livigno in the background at the Camanel photopoint with a toast to love among bubbles, music and entertainment.
To end your day of skiing in Livigno on a high note, all you have to do is head back toward the village along the picturesque Lovers' Trail.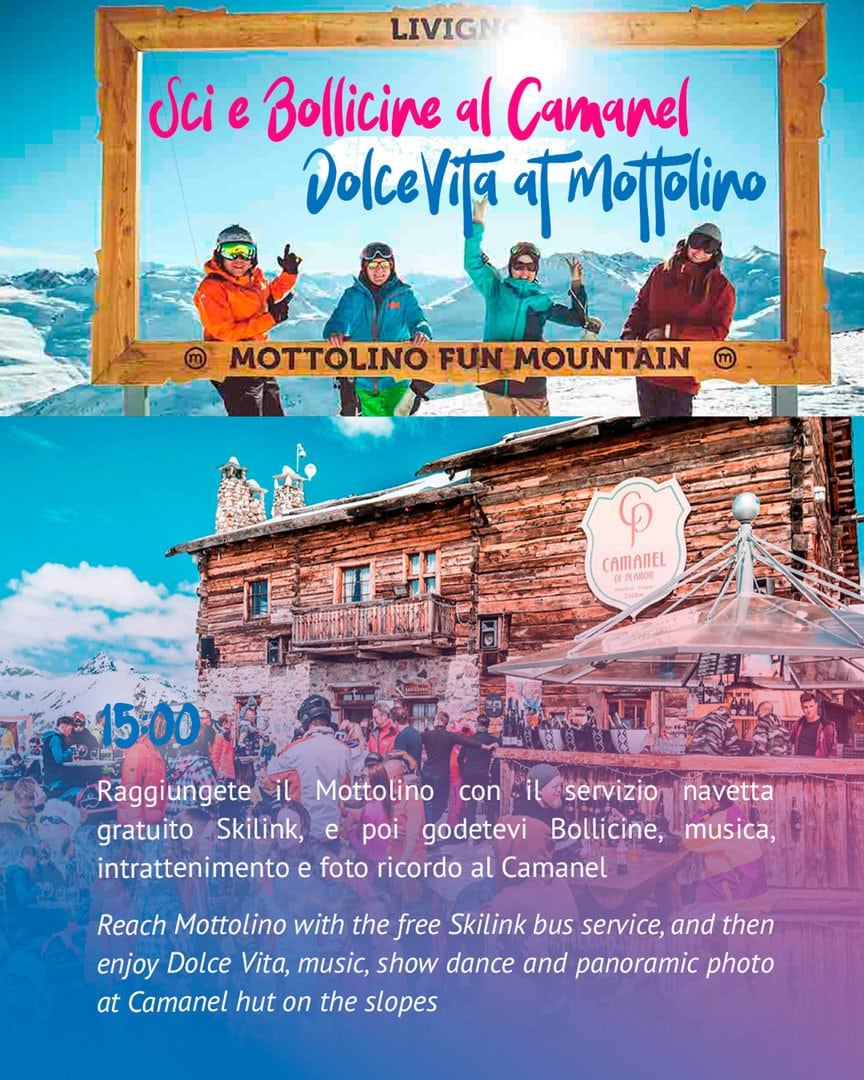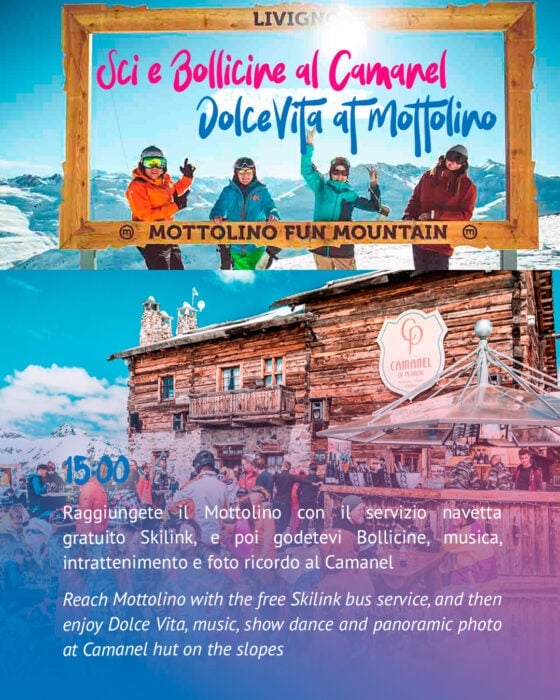 ❤️ Activity
9
Relax and at 7:30 p.m. candlelight dinner at Kosmo Restaurant
After you've rested and refreshed, it's time for the traditional candlelight Valentine's Day dinner. To leave your partner speechless, the Kosmo – Taste The Mountain restaurant on the slopes is definitely the perfect place, with its ethical and mountain cuisine.
Don't miss Chef Michele Talarico's Valentine's Day proposal: a special menu all to share.
BOOK NOW FOR DINNER AT KOSMO – TASTE THE MOUNTAIN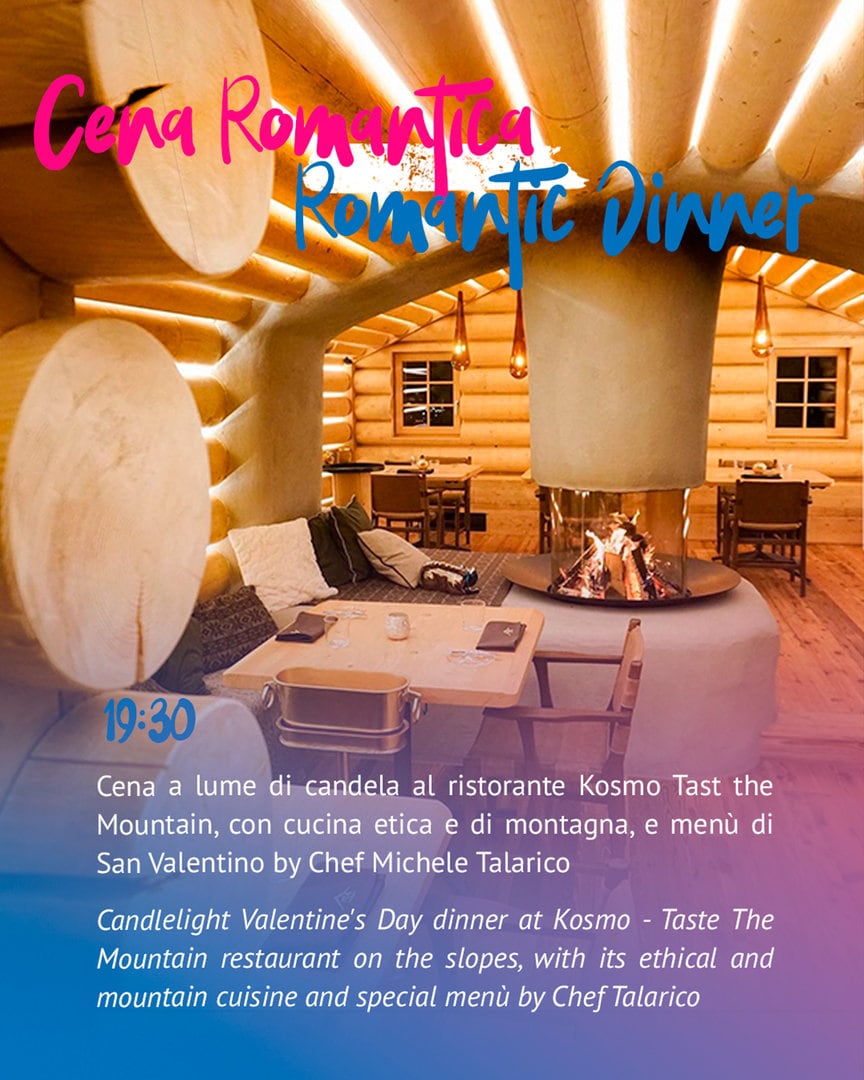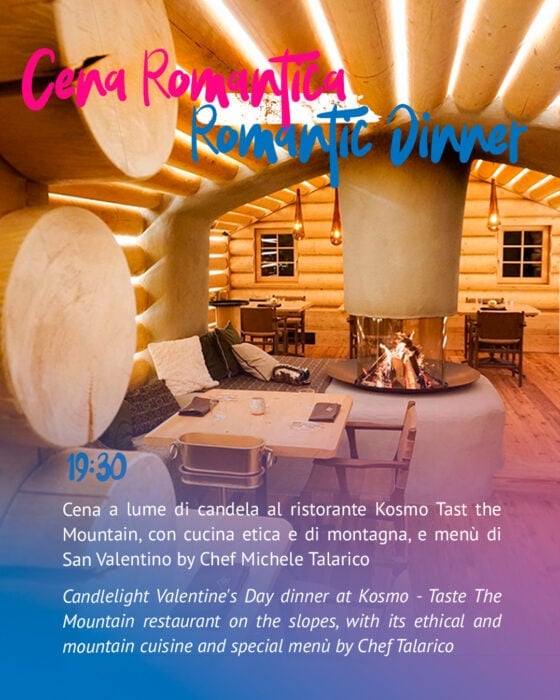 ❤️ Activity
10
9:00 p.m. – Ski instructors show and romantic closing with a kiss under the fireworks
To best end this perfect day of love in Livigno, don't miss the magic of the ski instructors' show at the lift No. 23 Campo Scuola, located in the center of Livigno. 
A truly unique moment in which the ski instructors will perform acrobatics, slalom races and skiing in typical Livigno costumes. 
For a romantic ending of the day, all you need is a kiss under the fireworks during the fireworks display.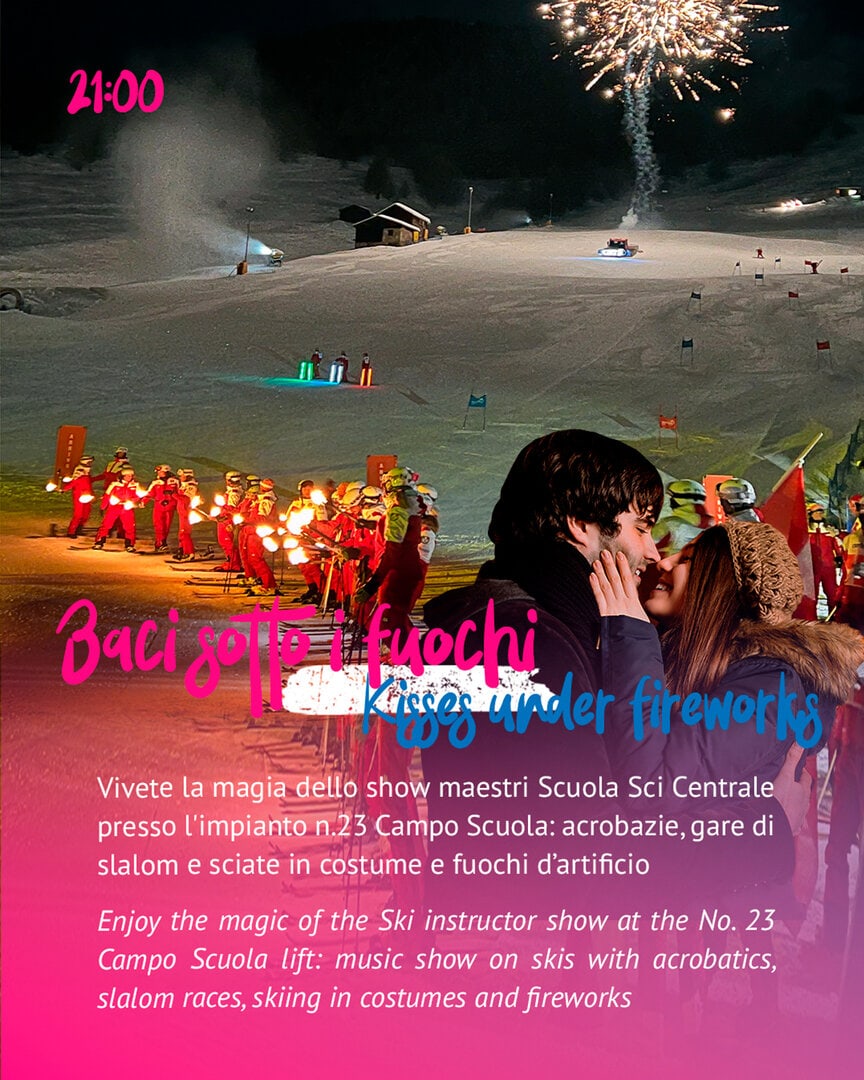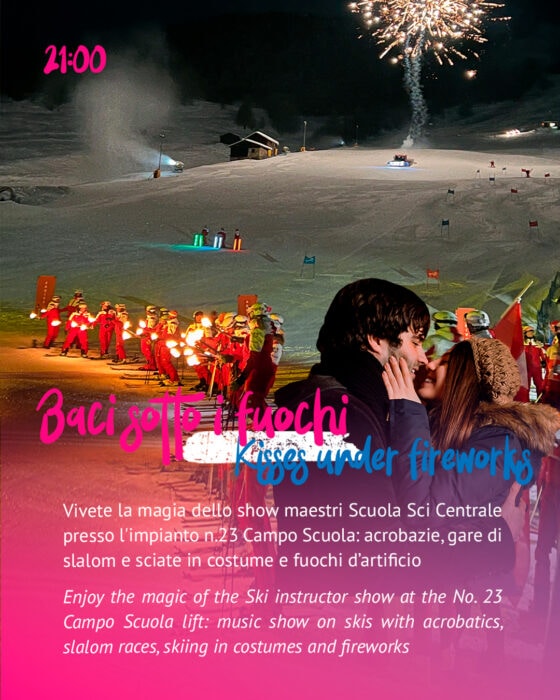 VALENTINE'S DAY GIFT IDEA
Surprise your other half by giving an exclusive wooden ski pass: a simple gift, but a promise for unforgettable experiences and new memories as a couple on the snow of Livigno.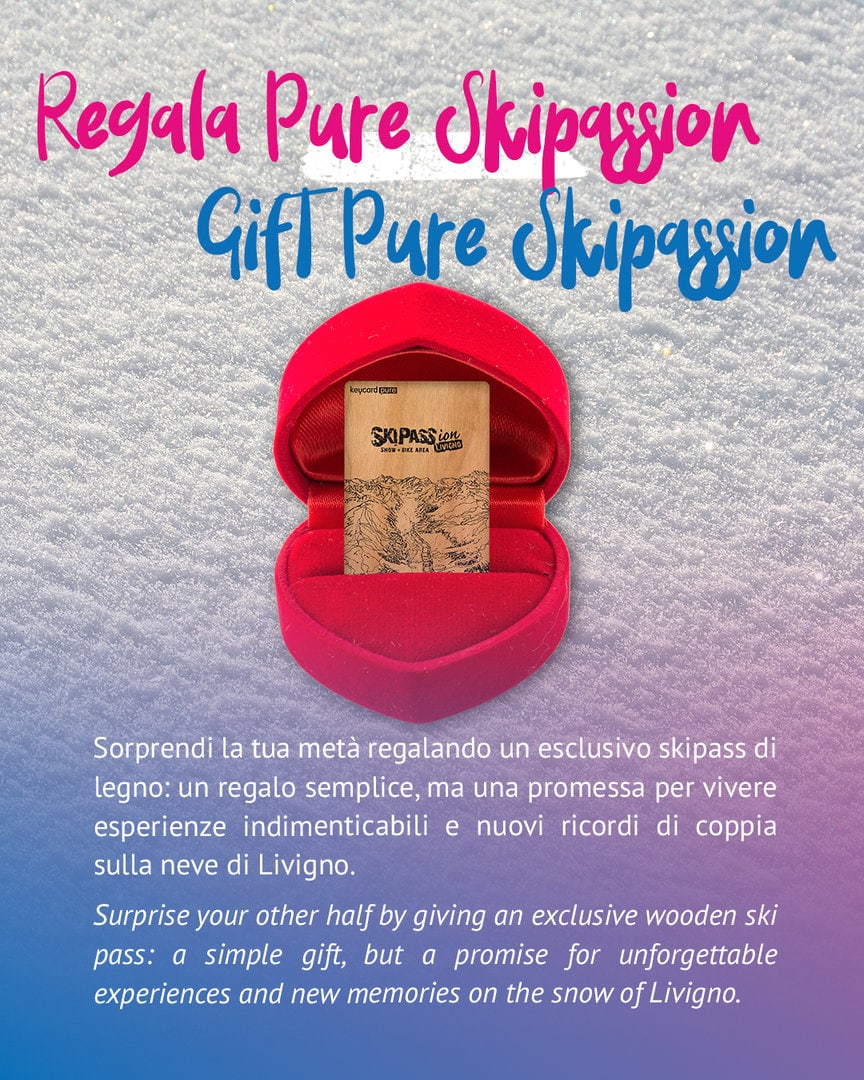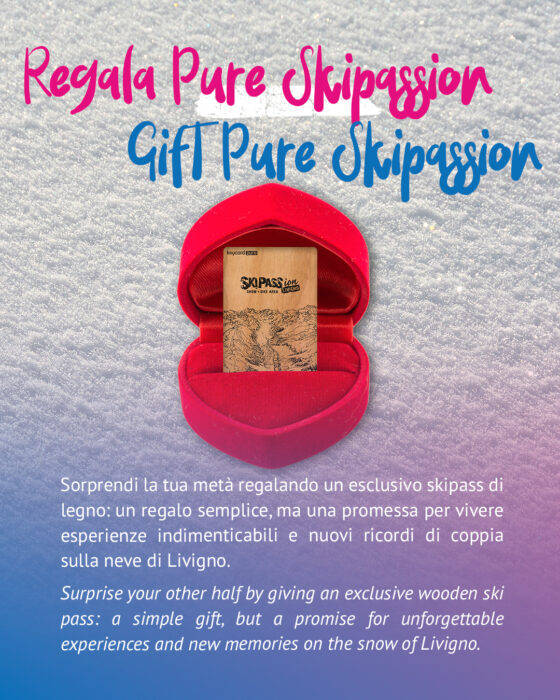 Happy Valentine's Day! ❤️